If you begin to pivot and filter and want to restore the original settings, you can re-enter them or click Cancel. As long as you have not clicked OK, your changes are not applied and you can reopen the Pivot and Filter dialog to begin again.
To pivot or filter Anaplan data in an Excel worksheet:
In Excel, open the worksheet that contains the data you want to pivot or filter, and click the Anaplan tab.
Click Pivot & filter.
The Pivot and filter dialog displays.
Drag and drop the dimensions between Pages, Rows, and Columns to define how your data displays.
You must have between one and three dimensions in both rows and columns.
Click the filter icon next to a dimension to search for and select specific items to display.
By default, the top two levels of the dimension hierarchy are displayed.
Expand an item that has additional levels by clicking the chevron next to the item name.
Optionally, to search for an item, type the search term in the Search items field.
The relevant items display in the search results.
Make your selection.
To select all items, click the select all box that is to the right of the Search items field.
To select individual items, click the checkmark by the item.
To deselect items, clear the checkmarks.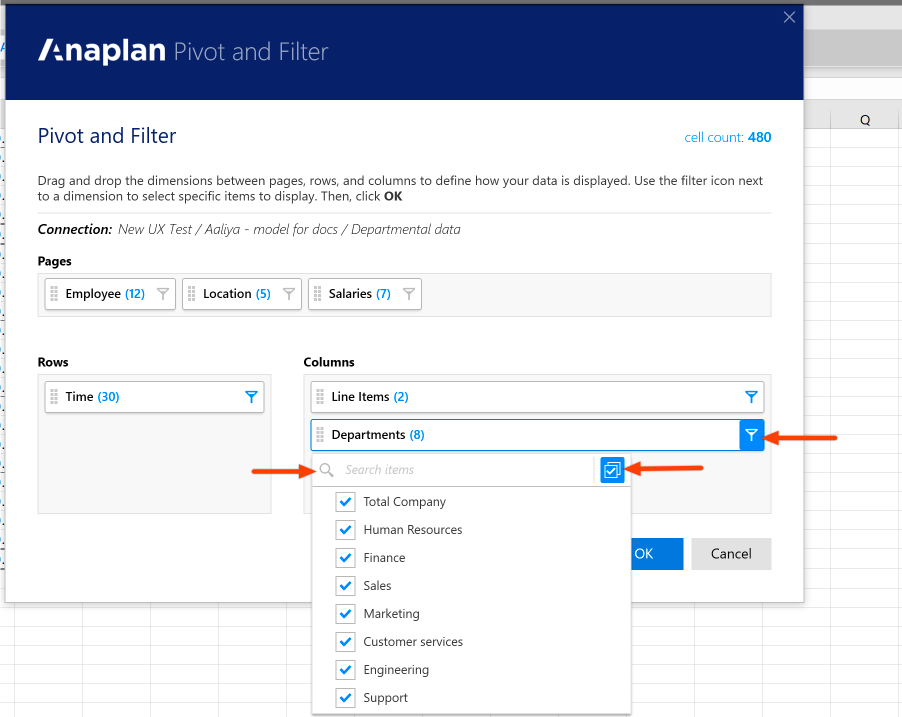 A dimension that has been filtered is indicated by a blue filter icon to the right of the dimension name.
You must have at least one item in each dimension selected. If you deselect all items in a dimension, the dimension turns red, and the OK button is disabled.
Users using Excel 2010 may occasionally experience issues with drop-down lists in the Pivot and Filter dialog. Once you select a dimension to include on a Page, you are unable to use the drop-down list again to select or deselect another item. If the ribbon becomes unresponsive, log out then log in again.
Learn how to update your worksheet using Pivot and filter or Preview.