You can run actions from a card if a page builder has configured this option.
The page builder can configure an action to display the steps and summary of a model action.
Some export actions are always available, even if not configured by the page builder. You can always export:
To run actions from a card:
Click the ellipsis (…) in the top-right corner of a card.
A dropdown list displays the action types configured by the page builder.
Hover your cursor over any action type.
This displays the actions available for selection.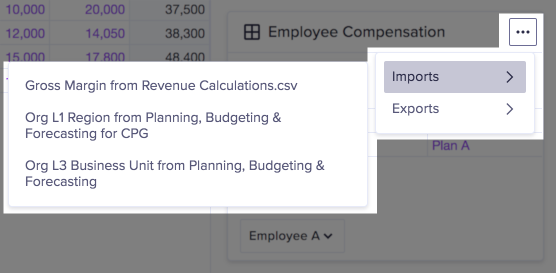 Select the action you want to run.
A dialog box opens. The options it displays will depend on the type of action. For example, the dialog for an export action displays an Export button.
Click the button — for example, Export, Import, Run Process, and so on — to complete the selected action.
The dialog updates to confirm the result of the action.
Click Close.
Note: Import actions in the user experience behave differently from the modeling experience. In this case, the import:
is always private.
data source does not save to the model.
This means that every time you run an import it will ask you to pick a file and upload again.
does not replace or alter any imports set up in the model.