Workflow automatically monitors the addition of data to a list. It enables tracking of data entry and provides a simple way to communicate with the users responsible for that data entry.
It works in conjunction with Selective Access, which is used to assign user access to lists. Administrators can generate emails to users, based on a workflow status, to monitor who is up-to-date with their data entry within Workflow.
Workflow is enabled by workspace administrators in the Configure tab of the list itself, or in the grid view of a list in General Lists.
This tutorial shows how Workspace Administrators can use Roles, Selective Access, and Workflow to control user access to data.
The Workflow Process
The process in Workflow goes from Not Started to In Progress to Complete.
When data is entered into a list that has a status of Not Started (red), the status will automatically move to In Progress (yellow) and will stay at that status until it is manually moved to Complete (green).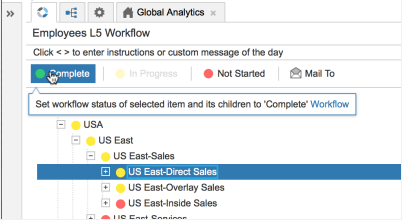 Moving a parent item to Complete sets all child items to this status. Data moved to Complete is locked and has read-only access for users. Workspace Administrators can then lock the model, and, if appropriate, archive it.
Although Workflow begins recording activity automatically — moving Not Started to In Progress — it does not automatically move the status to Complete, that's a manual action.
Workflow & Composite Lists
To understand why Workflow can't automatically move items from In Progress to Complete, you must understand composite lists. Composite lists combine a series of simple lists, each of which is assigned a parent in the hierarchy. For example, a list of regions could be parent to a list of departments, which in turn, is parent to a list of employees, and so on.
The component lists of a composite hierarchy can be used many times within a model, in many different composite lists.
| | |
| --- | --- |
| In this composite list you can see the five simple lists that comprise the composite list, Employees L5. | This composite list uses the same four lists as Employees L5, plus a different, lowest-level list, Marketing Programs. |
Workflow can only be enabled and disabled for a list at the lowest level of a composite hierarchy, making it obvious which branch the workflow applies to. Due to hierarchy dependencies, it isn't appropriate to automatically move a status from In Progress to Complete.
Working with Workflow
You can edit lists by entering data into either a module tab or a dashboard. To ensure consistency, lists can be published to dashboards to enable users to edit properties and subsets, as well as inserting or deleting items.
Statuses can be changed manually by selecting an item and clicking the appropriate process button: Not Started, In Progress, or Complete. A confirmation dialog displays and you can change the status of any descendent items as well.
Resetting Workflow and Workflow History
You can reset a workflow by changing all items to Not Started. This will delete the history of the transactions in model History.
If you want to track transaction history, perhaps in situations where a cyclical process adds data to the model, you can track the changes via cell history:

Access to Workflow
End users only see the Workflow tab if a list, associated with the dashboards and modules they have access to, is Workflow enabled.
User roles determine which lists each user is able to amend. If a list has selective access applied, users will only be able to insert, move, or delete items in a list that their role has Write access to.
To assign Write access, go to Settings > Users, and then select the Roles -> Lists tab. On this tab, administrators see all lists and all roles. Simply select the check box for each list you want each role to access.

Administrators can assign Write access to each item in a list individually in the grid view of a list. The Employee Name column provides a dropdown to select the username. The name of the user is then displayed alongside the list item in the Workflow tab.

Workflow Emails
List managers can automatically generate emails to users to escalate the completion of data entry tasks.
To email a single user, select an item in Workflow, then select an email recipient from the drop-down to the right of the item name.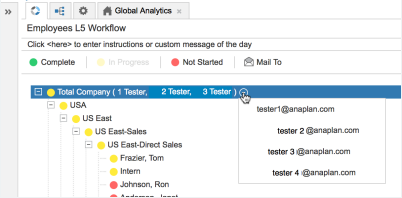 To email any or all users associated with a list item, select the item and click Mail To. A dialog prompts you to choose the workflow statuses, and assigned users, you want to email.
Workflow User Messages
Workspace Administrators can also send a global Workflow message — perhaps to remind users of deadlines — using a Workflow User Message. Type the message into the <Here> field and it will be displayed to users the next time they log in.