Subscribe and check your user settings
To use PlanIQ, you need to subscribe. Contact your Anaplan Business Partner for a subscription, and ensure you're assigned the Workspace administrator role.
Prepare your data
Before you begin with PlanIQ, prepare your source data in Anaplan. Have it ready to export out to PlanIQ. We also recommend that you create a module to hold your forecast results. See Prepare your data.
Open PlanIQ
To open PlanIQ, select PlanIQ from the dropdown in the top-left.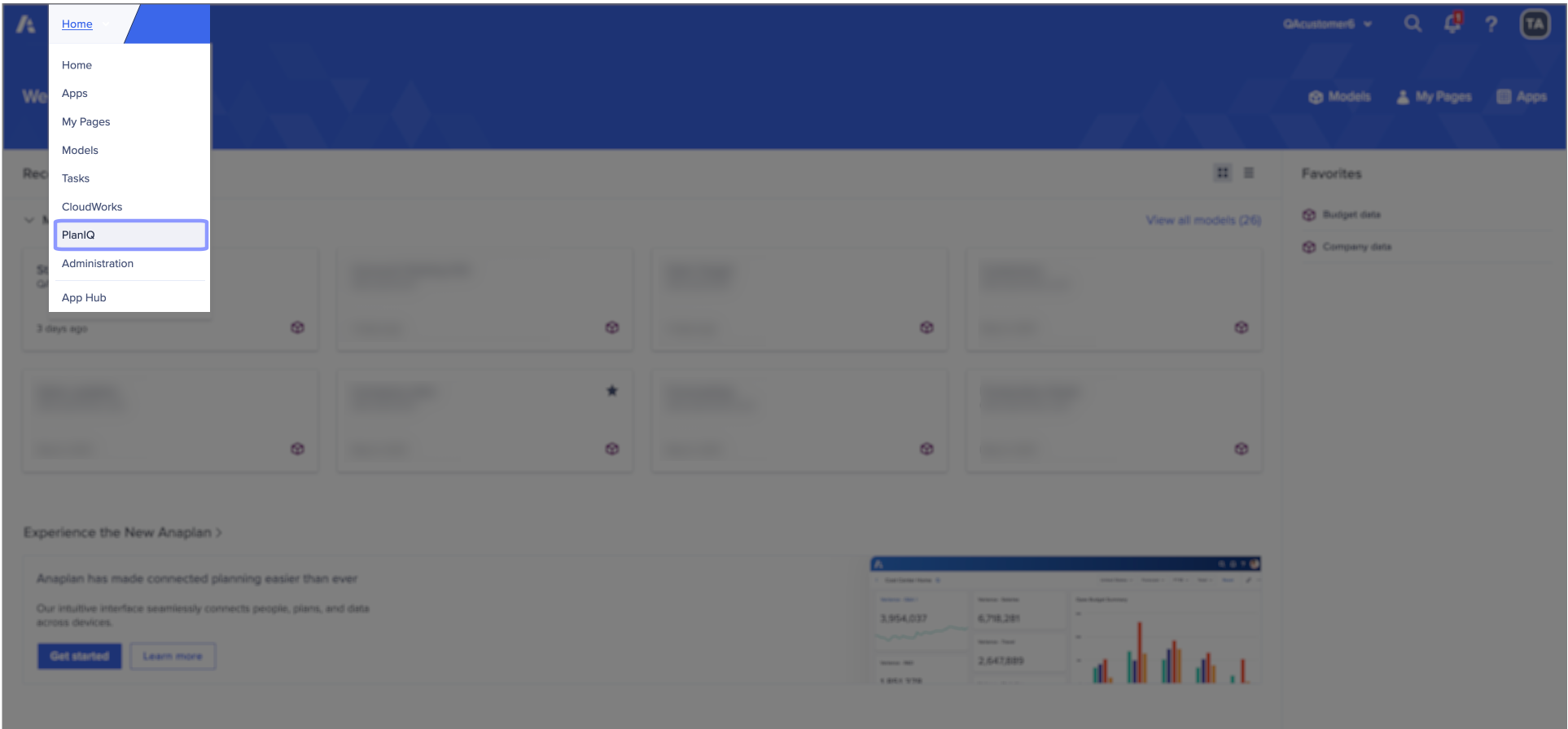 Set up your data collection
It's time to set up your data collection. This is the first stage in PlanIQ.
Give your data collection a unique name and use the dropdowns to select the historical data module from your source model and its export action.
Optional: You can include additional datasets to increase the accuracy of your forecasts.

To add related data, select Add related data and use the dropdowns to select your related data module and its export action.
To add attributes, select Add attributes and use the dropdowns to select your attributes module, and its export action.

Once you've added all your datasets, select Create data collection.
This triggers a data collection assembly.
Wait until the data collection is ready before you use it to create your forecast model.
Create your forecast model
This is the second stage in PlanIQ where you select an algorithm for your forecast model. PlanIQ algorithms are trained automatically, based on the data you provided in the data collection.
You can only select algorithms that are compatible with your data collection. If you want PlanIQ to choose an algorithm for you, select Anaplan AutoML from the Algorithm dropdown.
Give your forecast model a unique name, and use the dropdowns to select your data collection.
Choose an algorithm.
In Forecast horizon, select the Time interval and the number of intervals you'd like the forecast to reflect. The forecast horizon calculates the length of time the forecast can make predictions for.
Optional: If your forecast is for a specific region, it's a good idea to apply the country's public holiday calendar. Select the country from the Country-specific holiday calendar dropdown. This is included as additional data for your forecast.
Select Create your forecast model.
Now take a break while PlanIQ processes your data. A notification displays when the model is ready.
Create your forecast action
The last stage in PlanIQ is to create a forecast action that you can run from PlanIQ or in Anaplan UX. This action runs your forecast and imports the predictions into your forecast results module.
Give your forecast action a unique name and select your forecast model from the Forecast model dropdown.
Select the target workspace, target model, and the import action you want to use to store your forecast results.
Either apply the quantiles provided, or set your own. You can adjust the lower and upper quantiles. Ensure the values are up to two decimal points and within the required range.
If you want your forecast to run automatically, set up a forecast schedule.
Select Create forecast action.
The action is ready to use. You've now completed the final stage in PlanIQ and you're set to run your forecast.
Run a forecast
The forecast run generates your predictions. There are three ways you can run a forecast:
In Forecast actions, select the ellipsis to the right of the forecast action listing. Select Run.
If you set up a schedule, the forecast runs automatically.
You can add the forecast action

(opens external page)

to a board or worksheet in Anaplan UX. To generate a new set of predictions, select the forecast action button to run a new forecast.
Analyze your predictions
The predictions import into your forecast results module where you can compare your forecast results from the different forecast runs.

You've reached the end of the process. Your predictions are ready for data analysis. You can use the results to better inform your business decisions and financial plans.