You can change the view to show:
To list all models to which you have been granted access, click All.
Favorites
To set a model as a favorite, click
. The icon changes to

so you can identify any favorites when all models display. (Click the star icon again to remove it from your favorites.)
To view your favorite models, click Favorites on the menu bar.
The

icon indicates the favorite is locked.
Active
To view all models that are neither locked nor archived, click Active.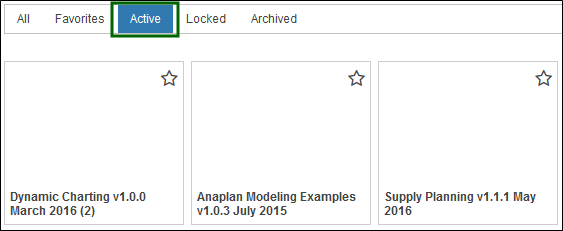 Active models can also be favorites

.
If an active model's status has been switched to offline, this is indicated in both tiles and list view:


Locked
If you're an administrator, you can Lock & Unlock a model. Locking sets the model to read-only. The

icon in tiles and list views indicates a locked model.

See all locked models by selecting Locked on the menu bar.
Archived
If you're an administrator, you can Copy & Archive models. This removes the model from general use, but it can be restored at any time. Users who previously had access to the model can see it listed in the Archived area, but it can't be opened.
To restore an archived model (if you're a workspace administrator), in the Manage Models dialog box, select the model then click Restore.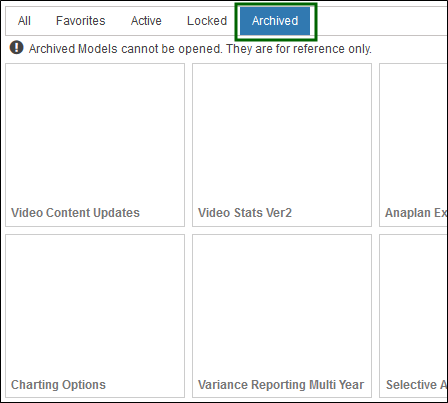 To view an archived model, click Archived on the menu bar.
Archived models cannot be launched and cannot be set to locked or favorite. They do not display in All, Favorites, Active, or Locked views).