The Dashboard Designer canvas is where you work on the layout of your dashboard. The canvas provides the flexibility to try things out and see how you like them—selecting Reset from the Dashboard menu provides confidence that your changes will not impact on end users unless you want them to.
You can add text boxes and images and move, delete, or resize elements. You can also access menus to format (column settings, height and width) and manipulate your data (selection options, hide/show, Breakback, drill down, filter, sort, show history, search). To edit a chart element, click Chart options from the chart element menu.
If the Properties panel is hidden, click the double chevron icon to display it.
When in dashboard design mode, all the elements on the canvas have a dotted outline (1).
The element selected has a solid blue outline (2); a blue Move button (3); a red cross to Delete the element (4); and an arrowhead to Resize the element (5).
A gray triangle (6), that changes shape and becomes blue when you hover over it, provides access to the Dashboard Element menu.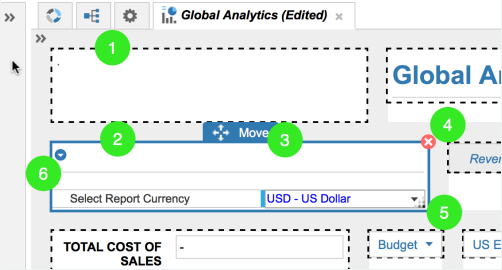 Note: In the Dashboard Designer all buttons are disabled, so you can't accidentally run any processes when you're designing a dashboard.