On a grid where data entry has been enabled, you can change the value of a list item, and add a list item via a form.
To edit a list for a cell:
Double-tap on the cell you want to update.
This opens the cell in edit mode.
You can also tap the cell to select it, and tap either the cell preview or the pencil icon to open edit mode.
To deselect the cell, tap the close icon (X).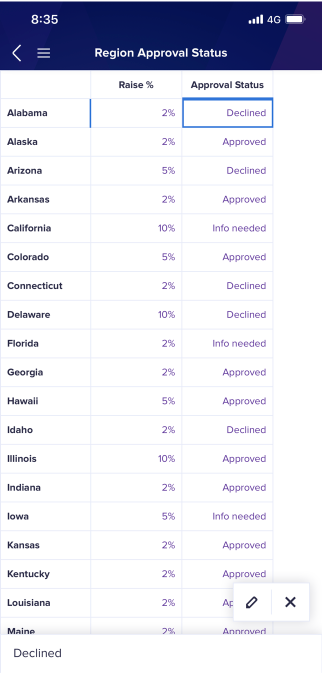 Select the list item to be added.
Tap the green tick to confirm your selection.
The cell updates with the updated list entry.
Add a list item
If permitted by the page builder, you can use forms to create list items.
Forms are accessible from any worksheet or expanded card where they have been made available.
Newly-created list items are added to the grid specified by the page builder.
The options for list items are available from the same cards and worksheets as on desktop Anaplan.
To add a list item:
Click the ellipsis (…) in the top-right of the toolbar on a worksheet or expanded card.
This opens a menu at the bottom of the screen.
Click Create items.
This opens the Create items menu, which displays the forms available.
Select the form you want to use.
This opens the fields for the form.
The page builder will have specified which fields can be populated.
Optionally, if permitted by the page builder, select the context to house the line item.
For example, if you add a new employee, you might be able to select the region or department as their context.
Complete any fields and then click Submit in the bottom-right of the field card.
This creates the line item.
You can add line items to any grid you have permission to edit.
However, it's best practice to add list items to the current card or page.