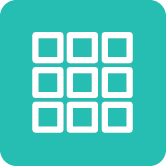 Returns the number of characters in a text string.
Syntax
LENGTH(x)
where:
x

: Text-formatted line item to evaluate.
Format
| Input Format | Output Format |
| --- | --- |
| x: Text | Number |
Arguments
The function uses the following arguments:
x

: Text: Text-formatted

line item

, text constant, list-formatted

line item

, or general expression
Constraints
The function has the following constraints:
Source must be text-formatted.
Result must be number-formatted.
White spaces are counted for text string length.
If source is blank, the function returns 0.
Excel equivalent
Example
In this example, the number-formatted Text Length 1 result line item returns the length of text entered into the text-formatted Profit Status line source line item:
LEN(Profit Status)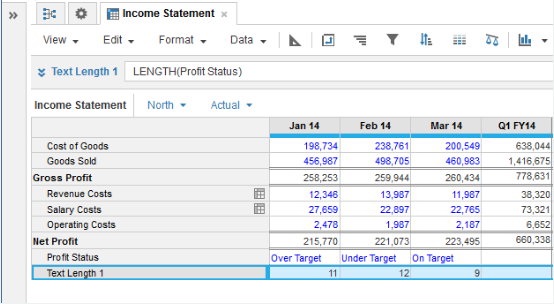 You can use the NAME function nested within a LENGTH formula to return the text string length of a list-formatted line item. In this example, the number-formatted Text Length 2 result line item uses NAME to return the list item selected in the list-formatted Sales Personnel source as text and then LENGTH returns the length of the text string:
LENGTH(NAME(Sales Personnel))
Similar functions