Image cards provide a visual identifier for a line item. For example, you can use an image to identify office locations, products, or different employees in your company.
You can include multiple image cards on a board.
To add an image card to a board, the source model of the board must contain a text-formatted line item. The text-formatted line item must be link-formatted and contain an image URL. To learn how to create a suitable line item in Anaplan, see Add Images to Dashboards.
To add an image card to a board:
Open the board in designer mode.
In the Cards panel, under Add card, double-click the Image tile, or drag it onto the board.
By default, the card displays, full-width, on the board.
Click Configure image on the image card.
On the right hand, the Card configuration panel displays.
In the Overview tab select a Module. The module must contain a line item of image format, describing a valid URL.
Select the image line item.
The selected image displays in the image card.
Optionally:

Enter a title in the Title field.
The default title for an image card is the name of the selected line item.
Enter a description of the card in the Description field.
The description displays in a tooltip when you hover your cursor over the i icon in the top-left of the card.
Select a page from the Link to a page drop-down list. The card title links to the page you select.
If you have not entered a card title, the name of the page you link to displays as the card title.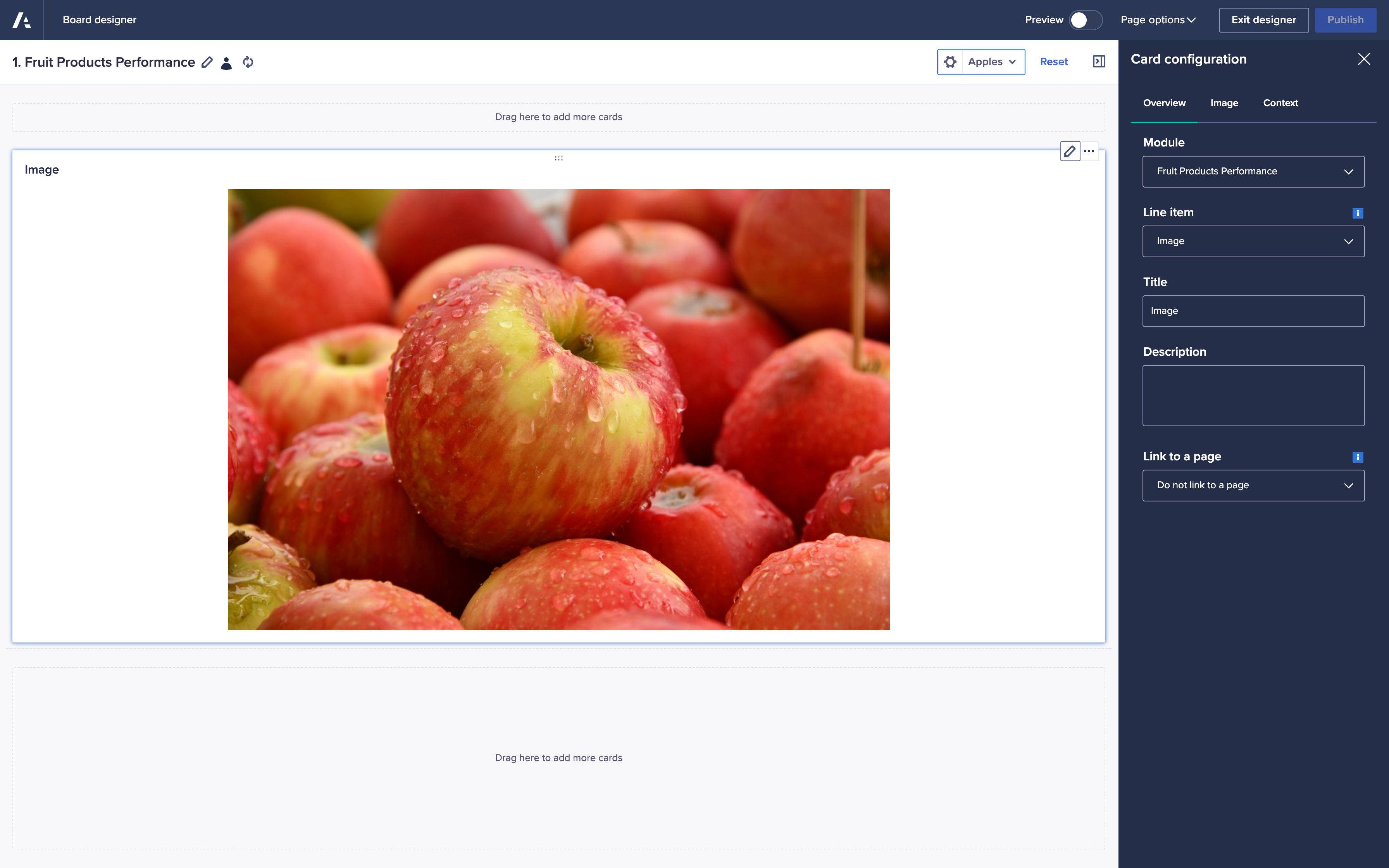 In the Image tab, toggle Display card background to display or hide the background of the image card.
The background of cards is enabled by default.
Click Publish to save the image card to the board.
Once published, if the module has multiple dimensions, a context selector will appear on the top-right corner of the page so you can select which URL to show. This selector allows you to select the image of your choice.