You can add a text card to a board, worksheet, or report.
On a report page, you can use rich text to enhance formatting, and include dynamic narrative that displays data from your model. For example, to clearly present the context, you can build data into headings. You can also write narrative in natural language, with inline data values.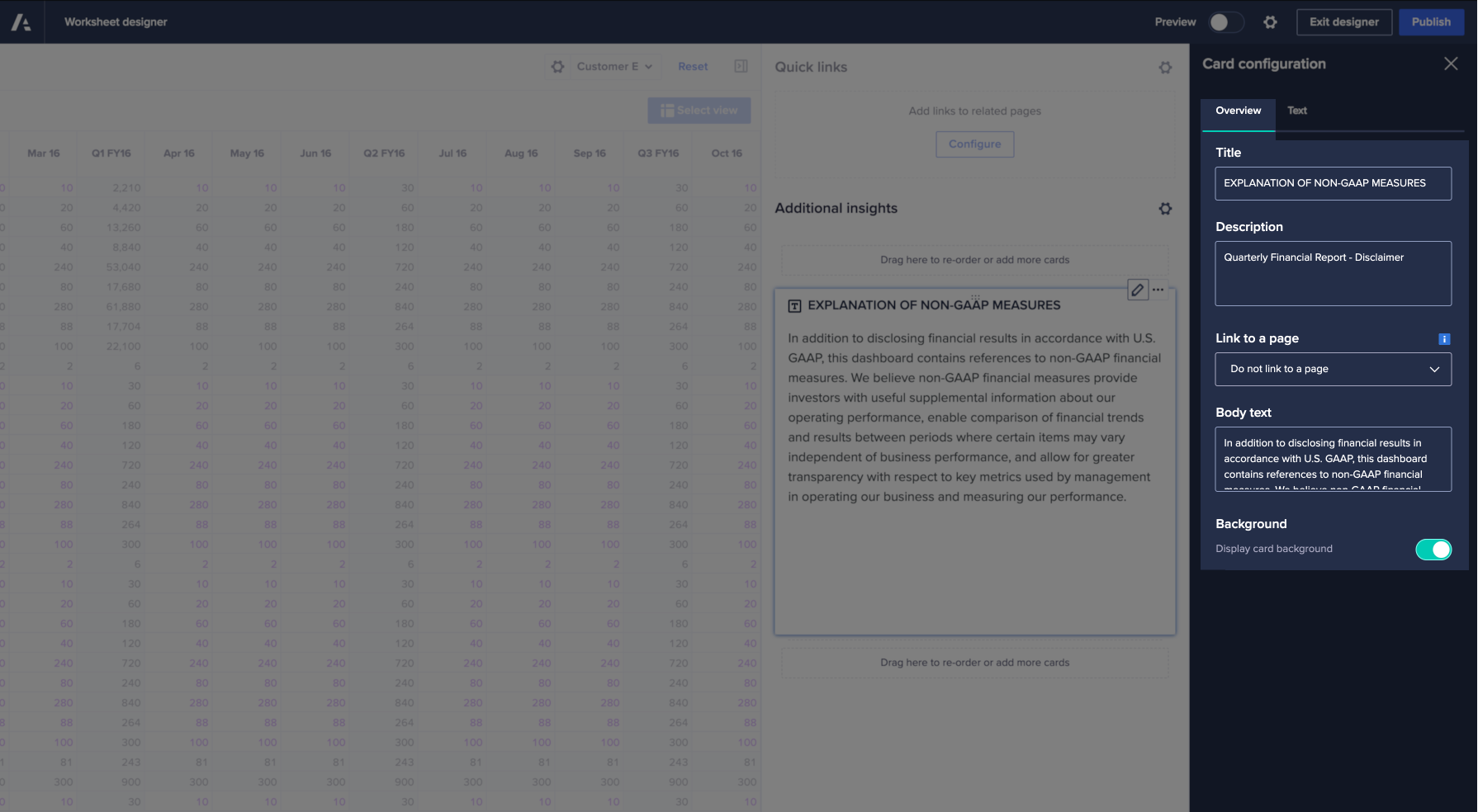 To configure the text card:
Select the Overview tab of the Card configuration panel, and optionally:

On a report page, select a View if you want to use dynamic narrative.
Enter a title in the Title field.
A default title generates from the name of the view, but you can change it.
Enter a description of the card in the Description field.
The text you enter displays when you hover over the information icon on the published card.
Link the grid card's title to a page from the Link to a page dropdown menu.
When the page is published, the title is hyperlinked to the page you select.
Enter your text in the Body text field. Once published, this text displays on the text card, as written.
Toggle Display card background to display the card background or to remove it.

For boards and worksheets, in the Text tab of the Card configuration panel, select from the Style dropdown to format the text as one of:

Normal
Instructions
Heading 1
Heading 2
Heading 3

On a report page, you can add rich text formatting and insert dynamic narrative into your text. You can:

Select paragraph styles for selected paragraphs of text.
Override paragraph styles for selections of characters, with color, character style, and alignment.
Add dynamic narrative, to place formatted text from the model on your report for line item values and context labels.
To position your card and publish it:
Optionally, drag and drop your card to where you want it to display.
To drag and drop, select the drag handle in the center of the top of a card.

On worksheets, drag your cards within the Additional insights panel.
On boards, size and arrange your cards in rows and columns.
On reports, freely arrange your cards on report slides.

To save your changes, select Publish.
You can save the page as a draft if you're not yet ready to publish.