Use a map card to display geographical data.
This is useful to display differences between markets, and highlight key values in each one.
To add a map card:
Open your worksheet in designer mode.
In the Insights panel, under Add cards to this page, Click Configure.
If the worksheet already contains cards, the Configure button will not display. In this case, click the cog icon to the right of the Additional insights heading.
The Cards panel displays on the right-hand side of the screen.
In the Cards panel, double-click the Map tile, or drag it into a Drag here to re-order or add more cards section.
The map card displays in the Additional insights section of the Insights panel.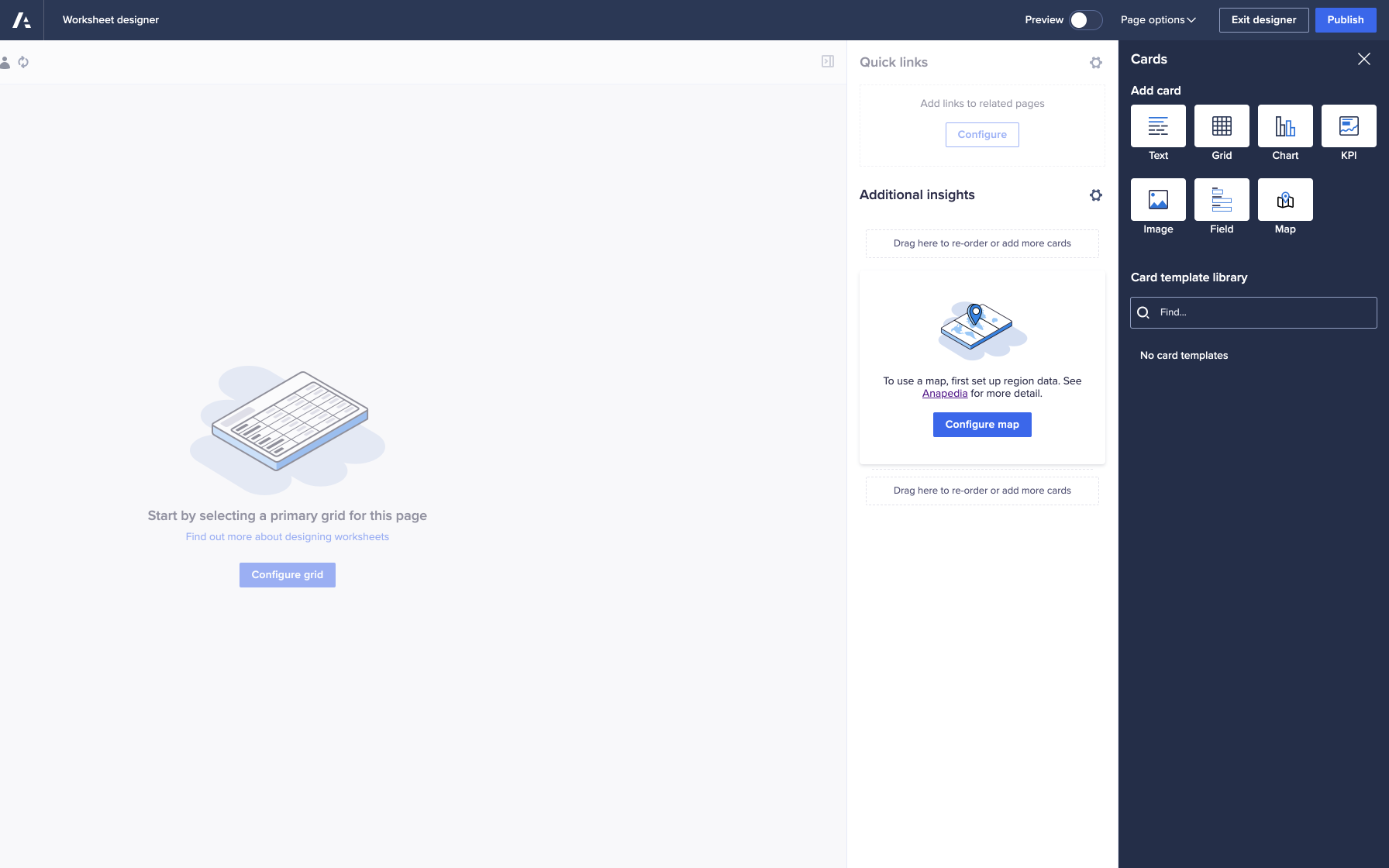 Click Configure map on the map card.
The Card designer dialog displays.
Configure the Overview tab content:

Click the View designer to select the source view containing your data. At this stage you may configure conditional formatting for your map. Press Update to return to the map configuration
In the Title field, enter a title.
A default title generates from the name of the view, but you can overwrite it
In the Description field, enter a description of the card.
The description displays in a tooltip when you hover your cursor over the i icon in the top-left of the card.
In the Link to a page drop-down menu, select a page to link from the grid card's title
When you publish the page, the card Title links to the selected page

Configure the map settings in the Map tab:

Under Data, in the Region dropdown, select the region that corresponds to the area you intend to visualize

Optionally, toggle Show only matched items. This will result in the visualization only displaying the regions and subdivisions that match the data contained in your source data

Optionally:

under Series, toggle the Use conditional formatting from Region Name to switch on any conditional formatting
under Labels, toggle the Show data labels or Show tooltips, to display country labels and tooltips with content from your source data

Optionally, Configure context selectors.
Click Publish to save the map card to the worksheet.