The custom view functionality enables you to design a new view for use in your pages without having to open and edit the source module.
Use the Custom View tab to design a new view. You can do this when creating or editing a the main grid on a worksheet, or a card.
Pivot your dimensions before you customize your custom view further. When you pivot a custom view, it removes any filter, sort, or show customizations you make.
An exception to this is if you want to apply conditional formatting to the Context selectors dimension. In this case, apply conditional formatting before you pivot your custom view.
Conditional formatting persists when you pivot a custom view.
On custom views with customizations published before the Allow pivot configuration option was released, pivot is disabled by default.
Users cannot pivot Module views.
To design a custom view:
Click Configure grid on a new worksheet, or Select view on an existing worksheet; or create and then configure a new chart, grid, or KPI card.
This opens the Select data source window within the Select primary grid or Card designer dialog. The name of the dialog depends upon whether you're designing a view for a worksheet or card, but the functionality remains the same.
In the Custom views tab, select a module.
A preview displays in the center of the dialog. A toolbar displays in the top-right of the preview, next to any context selectors.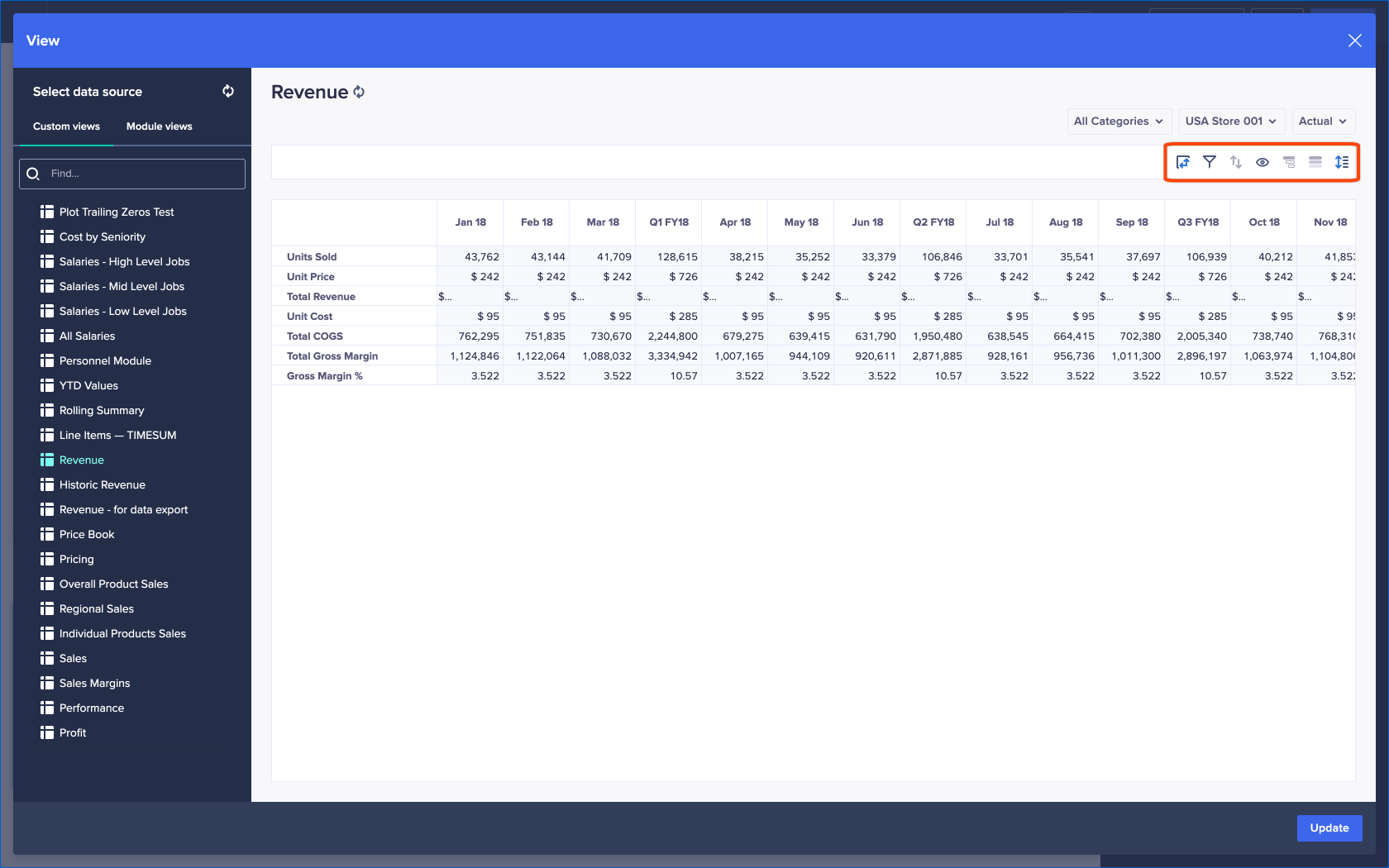 To modify the custom view, use the functions accessible through the toolbar icons at the top-right:

Pivot (1), to change the dimensions applied to Rows, Columns, and Context selectors
Filter (2), to change the values that display for line items in your grid, based on criteria you determine
Sort (3), to arrange your data in ascending or descending order
Show / Hide (4), to choose which dimension items you want to display
Totals Position (5), to change where totals display on the grid
Conditional Formatting (6), to apply formatting to cells in your grid based on specified criteria
Reorder (7), to change the order of items on a grid
Click Next when you have finished modifying your view.
Further configuration options display, along with a preview of your custom view. If you need to make an update, click Back and modify the custom view further.
Configure additional options. The available options vary between worksheet primary grids and different card types.
On a worksheet, you can:
toggle right the options under Allow editing to enable users to edit list items or data
toggle right Allow pivot to enable users to pivot the worksheet (this is enabled by default)
toggle right under Rows or Columns to enable hierarchy filters
Click Update to finish configuring your grid or card and display it on your page in designer mode.
Click Publish, in the top-right, to publish the custom view to the page.